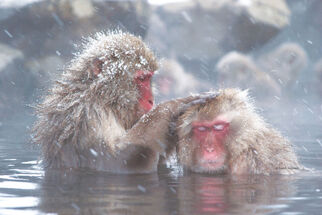 Japanese Macaques are on 5 different episodes, and are #6 on Smarts, #8 on Wild Partiers, #1 on City Slickers, #9 on Gourmets, and #1 on Cleaners. They occasionally come up with totally original ideas. One snow monkey saw humans bathing in hot pools, and decided to join them. Everybody joined her, and now they love bathing. However, if there is one thing they like more than bathing, it's grooming. They love grooming themselves, grooming others, grooming other animals, and even take ticks off of deer to put them on their own body so they could be groomed. They like to eat the ticks and other parasites that they pick. They also manage to survive in the city by stealing peoples water bottles, food, and even turning on water spouts. They also learn that it is much easier to get sand off a sweat potato, by dipping it in the ocean water, than it is to brush it off with the paws. They later learned that dipping the sweat potato into the ocean between bites, and flavor to the sweet potato.
If following the countdown for extreme Smarts, here is a link for the next contender, which goes nuts when it gets the green light.
If following the countdown of extreme Wild Partiers, the next contender loves a good banquet but hates all the guests.
If following the countdown of extreme Gourmets, here is a link to the next contender.